This webinar will be held on Tuesday, July 28 & Wednesday, July 29 at 2:00 pm – 3:30 pm EST. As educators, we must update our perspective from counting the number of students using our services, to measuring the impact we are having on students. The Transforming Good Students into Great Learners Webinar provides specific steps and resources that enable you to both attract and transform your institution's underserved good students into great learners. Participants will learn: 1) how to convert current services into powerful experiences, 20 how to extract useful data from experiences, and 3) how to use data to impact various institutional stakeholders. In addition to the resources necessary to implement a Transforming Good Students into Great Learners experience, participants receive the full recorded sessions and customized presentations.
Live Discussion
Tuesday, July 28 & Wednesday, July 29; 2:00 – 3:30 pm, EST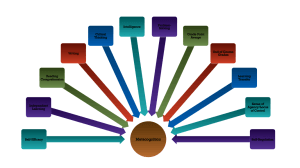 Last December, after conducting a workshop at the Southern Association of Colleges and Schools Commission on Colleges' (SACSCOC) annual meeting in Nashville, TN, I was invited to dinner with a group of participants.  Our motley crew included faculty, chief financial officers, presidents of colleges, enrollment management professionals and student affairs personnel. (SACSCOC's meetings typically attract a broad range of professionals.) As the conversation jostled around, I mentioned metacognitive tutoring and the transformation that was occurring on my campus and other early adopter institutions. The high level of interest was pleasantly surprising.
I think more than interest, they didn't know that tutoring could be used in the ways that I was describing. I asked them what learning support services and tutoring were doing for their institutions and, other than the learning support colleagues, most were unaware. They knew services were offered, and they said generally good things about the programs, but they didn't connect them to the core institutional business. (Well, the financial folks did mention how much they spend on support services.) In this audience, support services were viewed as tolerated services, mere add-ons to the more important business.
This dinner conversation affirmed my conviction that tutoring programs are not maximizing their impact. We are delivering good results, but fall just short of delivering great results!  We don't strategically and explicitly link tutoring to institutional academic success and enrollment. Most tutoring programs operate on process metrics by which they evaluate their services by the number of students who use their services. Supervisors of such programs are probably unaware that people such as the financial folks in my dinner group view increased services usage as an unconstrained cost. In these cost-cutting days, tutoring programs must clearly and powerfully demonstrate how it affects provide the bottom line.
Metacognitive Tutoring
Empirical evidence has linked metacognition to a long list of student performance indicators. The aggregate of the research suggests that students with better metacognitive skills will outperform their peers. By incorporating metacognition into existing tutoring services, we help students develop some of the core skills that lead to high academic achievement.
While "transforming" may evoke thoughts of a time-intensive process to be pushed aside for a future date, our campuses need us to transform the educational experience now! They are investing significant resources into trying to improve student success and enrollment. They don't know, and perhaps you don't know, that the potential for the transformative experience that they seek exists within their institutions. Metacognitive tutoring is an approach that can be immediately embraced and quickly integrated into existing tutoring operations. It doesn't cost anything and usually attracts additional funds as key decision makers see the value that it can deliver.
Metacognitive Tutoring Goals
In-session Tutoring — Metacognitively trained tutors provide enduring help that produces self-directed, empowered learners. Metacognitive tutors assist their students in ways that extend beyond their immediate content; they improve the very essence of how students interact with content generally. This type of intervention positions students for success across all academic disciplines and tasks. By extracting metacognitive data from tutoring sessions, tutors will supply tutoring programs with a rich and endless cache of new insights to students' academic struggles.
Programmatically — There is a tendency to organize programs around familiar routines.  We get accustomed to a system and stick with it, even when it doesn't produce the results we desire. Metacognitive tutoring stimulates innovation because it provides a continuous flow of usable data. Program directors will see previously unrecognized patterns and trends that can easily be acted upon. Tactics and strategies can be measured and reported to all stakeholders.
Institutional Impact — The patterns that the data reveal can be used to educate academic programs about the sources of students' academic problems and develop partnerships to overcome them. The relationships between in-class and out-of-class educators can be leveraged to develop proactive institutional initiatives that measurably affect student preparedness, success and enrollment. So regardless of whether your campus colleagues have told you or whether you realize it, your campus needs to upgrade its tutoring program ASAP!
For further resources on metacognition:
Lin, X. (2001). Designing Metacognitive Activities. Education Teaching Research and Development , 23-40.
Young, A., & Frye D., J. (2008, May). Metacognitive Awareness and Academic Achievement in College Students. Journal of the Scholarship of Teaching and Learning , pp. 1-10.