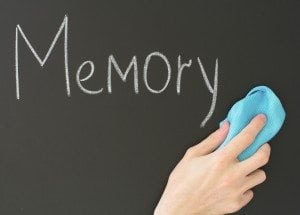 Contemporary research and conversations highlight educators' pedagogical style and use of technology as indicators of teacher effectiveness. While these are important factors in the teaching and learning relationship, at the core of teaching and learning is, well, a relationship. This educational union between educators and students has, and always will be, the central key to outstanding education. All relationships hinge upon communication. Employees crave supervisors who offer their vision and the manner in which it should be accomplished. Personal relationships stagnate when communication is weak. Likewise, educational relationships suffer when educators do not clearly communicate their expectations to students. Precision is compelling. Clarity and small steps make for miracles. Below are three practical steps educators can take to improve communication and move students beyond simple memorization.
1.  Compose a great syllabus. 
A properly used, well-constructed syllabus is a game changer! The research is clear and consistent: Educators who provide a useful syllabus have more successful students and are more effective teachers1. The syllabus is a living document that communicates to students throughout the course. It's a gift that keeps on giving, so to speak. In addition to standard information, such as a course description and assignment dates, a great syllabus includes effectively written learning outcomes. Consider the metacognitive, task-specific learning outcomes illustrated by the image to the right. I'll admit that incorporating metacognition and tasks with learning outcomes is ahead of current research, but I believe the research will eventually catch up. The metacognitive component addresses how students will be expected to interact with content.  The task-specificity fits the way in which students tend to organize their academic "to-do" lists. Let's deconstruct the first bulleted learning outcome to unravel and reveal just how instructive one concise statement can be. In addition to specifying the task reading, the students are:
Made aware that they are responsible for reading "independently," or outside of class, as.
Opposed to relying only on classroom interactions, as is common for many students.
Explicitly instructed to read "analytically," thus potentially overriding their natural tendency for recall reading.
Specifically told that reading in this class involves multiple texts.
Informed as to what they will be expected to do with the readings, "express their comprehension through various tasks," which the teacher can specify as needed.
Students armed with clearly stated expectations are in a much better position to accurately interpret the outcomes they need to work toward and to calibrate their proximity to meeting the outcomes before they are called upon to demonstrate them on a task or test.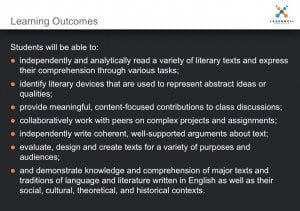 2. Model deep thinking while teaching.
Educators live in their own version of Lake Wobegon, storyteller Garrison Keillor's fictional town in which everyone overestimates their characteristics and abilities. It seems that all faculty believe they teach critical and deep thinking skills. This is despite data from the National Survey of Student Engagement that suggest otherwise. On The LearnWell Projects' professional development post-event evaluations, teachers regularly acknowledge that they realize they've not been teaching deeply. Simply slapping Bloom's Taxonomy on a syllabus and telling students to aim for the higher skills is not teaching – that's called telling. Including essay exams or requiring students to use advanced thinking skills on assessments is testing for the skills, not teaching them. Educators who model deep interactions during class give their students an advantage among their peers. Why is this so important? Because in addition to taking notes during class, students absorb the level(s) of interaction in which the professor delivers the content. Later, when students study on their own, they apply the same level of thinking that was exampled during class. Hurried educators who spend the entire class time covering basic points wind up producing the very thing they detest: students who think about the right stuff, but on a shallow level.
3. Allow students to do the work.
Consider this example: A teacher asks Stephen to answer a complicated question. After a few guided attempts, he is unable to produce the correct response. The teacher, perhaps trying to pacify his own discomfort with the situation, steps in and solves the problem for Stephen and the class. This teacher may have shown the class how to get to the correct answer, but consider if he had left the unanswered question as a cliffhanger? Students then would have had to struggle on their own, maybe even overnight, to come up with the answer. What if the teacher revisited the question throughout the week, explicitly directing the class to continue mulling over the problem? What if he allotted a few minutes for the students to work in groups to think about the question and potential answers? The imagined scenario provides a healthy balance of cognitive tension, support and opportunity. Furthermore, it is a more realistic version of the nexus between thinking and learning. Problems aren't solved in fifty minutes. Some challenges require multiple visits. Sometimes – or, more likely, most of the time – solutions arise when people are not actively thinking about a problem. Students who experience the imagined scenario will not only become more persistent thinkers, they will be more likely to accurately apportion their time for academic tasks. I hope that these two articles help students and educators work together to move beyond memorization and develop the rewarding teaching and learning relationship that educators envision and that students need. You can view Three Things Every Student Must Know to Move Beyond Memory-based Learning at the following link: http://bit.ly/1iwO0xN
Reference(s)
O'Brien, Judith G., Barbara J. Millis and Margaret W. Cohen.

The Course Syllabus: A Learning-Centered Approach

. San Fransisco: Jossey-Bass, 2008.