Research suggests 80% of academic work in college occurs away from the classroom. This means that academic success hinges on a student's ability to learn independently. While students must do the learning themselves, the classroom context can either help or hurt them.
This workshop provided teaching strategies faculty can employ inside the classroom that helps students learn better away from class. Participants installed a metacognitive instructional infrastructure to create a complementary teaching and learning environment. Together, we explored ways to enhance how students interact with academic content, strengthen peer-to-peer learning, and create more inclusive classes.
---
Topics Covered
---
 Course Framing
Content without context creates confusion. Content with context creates clarity.

College academic courses cover high volumes of complex information that can be confusing for students. Those who feel lost are more likely to give up and less likely to endure inevitable difficult parts of courses. However, educators who help students frame their courses create contexts for courses. The results are students who more effectively navigate paths to success.
Pivotal Point: Imagine that you sit down to start a 1,000-piece jigsaw puzzle, but the box of puzzle pieces does not have an image of the completed puzzle on it. You must assemble the puzzle without the foreknowledge of the finished product you are working toward. How successful do you think you would be? You would likely waste much of your time before getting frustrated and quitting.
Unfortunately, this is what academic work is like for most students. They attempt to assemble the daily pieces of course content in some coherent way, but they can't because they lack the proper conceptual infrastructure needed to do the work. O' Brien, Mills and Cohen (2008) assert in The Course Syllabus: A Learning-Centered Approach that students must know where they are headed to effectively regulate their learning.
We began our work together using the Good, Better, Best Metacognitive Learning Outcome Rubric to convert existing learning statements into metacognitive learning outcomes (MLOs). Then we shared how educators can use MLOs to enhance instruction and how students can use them to strategically frame courses.
The short video below should refresh your memory about the value of MLOs!
---
Toggling Thinking Skills
Students cannot solve their academic problems with the same thinking that created them. 
Academic work requires students to use a sophisticated set of thinking skills. But research suggests that most students have been able to get through high school using a simplistic set of skills. This shallow skill set is often inadequate for the complex processing that collegiate work requires. However, educators who help students differentiate their thinking skills and add new skills to their academic toolbox equip them to work more productively.
Pivotal Point: Student underperformance is often caused by students using the wrong thinking skills during preparation for tests and tasks. They may study many hours and use promising study tactics, but if they don't activate the correct thinking skills while studying, they will not perform up to their capabilities.
Students must learn to toggle their thinking skills. Cognitive toggling involves deliberately switching one's thinking skills to achieve specific academic effects. Students must toggle between the course and the content, shallow thinking and deep thinking, and focused and diffused modes of thinking. Most students, though, have never learned how to toggle their skills. According to Blackwell, Trzexniewski, & Dweck (2007), these skills can be practiced and refined so they are used in a relatively automatic fashion.
In this segment, participants learned how to use metacognitive tools and tactics that empower students to toggle their thinking skills.
The short video below is an excellent extension of our work!
---
Feedback Frameworks
Feedback is looking back to move forward.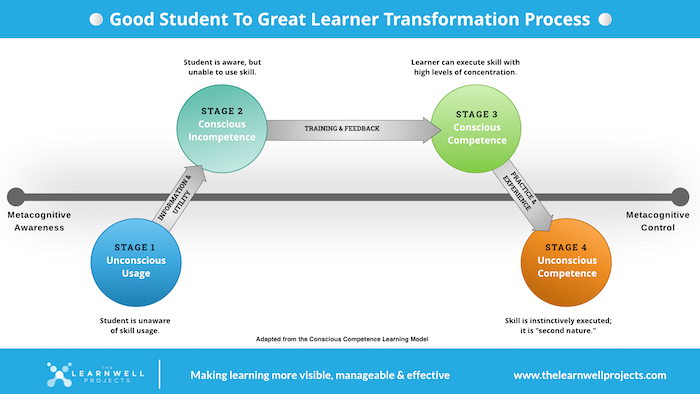 Feedback is seldom a focus of instruction. However, one of the best ways educators can help students recognize the need to adjust their thinking and do the work required to grow their skills is to provide them valuable metacognitive feedback. We used a few frameworks that make providing feedback much easier for educators.
Pivotal Point: Formative feedback is one of the best ways to get students to adjust their approach to academic work. Yet, educators rarely use feedback as a strategic measure to improve students' thinking.
In this segment, we focused on ways to use tools, such as the Good to Great Learner Transformation model, to help educators and students pinpoint where they are in their metacognitive development and how they can progress to the next level of operation. We also used the Circle and Squares game to provide direct metacognitive feedback and direction for academic work.
---
Inclusive Classrooms
Transparency, not simplicity, is the key ingredient. 
When the elements above are carefully constructed, they create the necessary transparency that is a hallmark of inclusive classrooms. Based on findings from my Clearing the Path report, we showed the interconnectedness of underrepresented students, underperformance and cultural discomfort.
Pivotal Point: The solution to improving performance in cognitively complex learning environments is not simplicity; it is transparency. When the work that is needed to travel from hard work to high performance is clear, underrepresented students achieve unprecedented results.
We ended the session by sharing how to align the tools, tactics and insights that we covered throughout the workshop in ways that help students learn better and faster.
---
More Metacognitive Material